I saw this on Stacy Julian's new blog and I thought it was an awesome idea. It's a great way for you, the reader, to get to know me, the blogger, better. Very clever & fun for me!
A is for Alan Rickman.
And a resounding chorus of "REALLY???!?" fills the air. Yes, I know you all know about my fascination with Mr. Rickman. And, yes, he's old enough to be my father. He is not technically what one would consider "conventionally attractive." He's not "beautiful". But I dare you to find anyone sexier. It's the combination – the voice, which is like warm molasses dripping down your spine. The hands, which are strong and constantly expressive. The air of confidence & power. And, of course, the talent. Which is monumental. He's the "Sexy Man" for the woman who wants more than just a pretty face.
ETA: His passing was the most difficult celebrity death I've ever felt. I was truly in shock and I still miss him. Oh, and I can't watch his last film because that will truly end him for me.
A is for autumn
I adore autumn. I wish there was a way for me to live somewhere where it was autumn all the time. The colors are breathtaking, the weather is excellent, the air is crisp, the scents are soothing. I would love to spend all day just out & about with my camera, capturing all the colors from different angles. Golds, reds, greens, oranges. Yum.
B is for Barnes & Nobles
I mean, right? I could easily spend hours just wandering around looking. I don't go very often, because I end up spending  too much money. But I have been known to wander around scanning the books, adding them to my Amazon wish list  and then requesting them from the library when I get home. Oh, also I don't go very much because I have a bookcase  filled with new books that I haven't read yet!
C is for Carmex
Ahhhhh, Carmex. The bane of my husband's existence. I've been using it since high school and I'm totally addicted to it. Nothing soothes my chapped lips like it. I always have a bunch of them stashed around for emergency use!
C is for chopped salad
Portillo's chopped salad is the best thing ever. I love them desperately. I could eat one every day and not get bored, not even for a moment.
C is for Cults
No, I'm not in one, nor do I recommend anyone join one. But I find the mentality of cults fascinating – how does one fall for that? How does someone stay involved when it's obvious the leader is insane? How do you rationalize such crazy behavior? I watch cult documentaries and have a favorite podcast that's just called "Cults" that I listen to. It's just fascinating to me. My two most interesting cults? The FLDS (leader Warren Jeffs) and The Family or Children of God (leader David Berg). Both some crazy dangerous stuff.
 D is for Diet Coke
Diet Coke….ahhhhh. The elixir of life. I know it's not terribly good for me and, while reports might say that I should  just stop it already, I am well & truly addicted. I love it. Giving it up while pregnant was so hard. Recently, I switched over from regular DC to this kind with Splenda – trying to have less aspartame. It tastes different, but I still love it. Unfortunately, this kind only comes in 12 can packs, so I have to drink it out of those. I prefer the 2 liter bottles, but I'll make do.
D is for Dymo
I love my labelmaker! It feeds my organization-loving soul, even when I fail at the actual organization part of it. I love printing out the little labels and assigning them to areas and bins and supplies. And, most importantly, without my Dymo, this moment never would have happened.
E is for Eric Northman, Viking Vampire
I've been a fan of Charlaine Harris' Sookie-verse for a couple of years now. When they made her books into a hit HBO series, True Blood, I wasn't sure how well it would translate and if they'd be able to get the sexiness of it all on screen without blowing it. Especially the character of Eric – the 6'4″ blonde Viking vampire who's over 1,000 years old, has a sarcastic sense of humor, is intimidating & scary, but still approachable enough to be very sexy. The minute Alexander Skarsgård appeared on screen, sitting boredly on his Fangtasia throne, surveying his minions and providing eye-candy for the patrons, I knew they'd nailed it. While I kind of lost interest in the last year or so, I still watched. Only for Eric.
F is for Frappuccino
Mmmm. It's actually more of a dessert than a coffee, but I love them. My favorite is coffee-flavored with 2 pumps of hazelnut, but I also enjoy a good Pumpkin Spice, Caramel or Java Chip upon occasion. But, hold the whip, please.
G is for GIFs (and Memes)
Okay, here's where I admit what a complete dork I am. I ADORE MEMES AND GIFS. Like in an unhealthy way. But they have to be good and original and funny. I admit, I don't get the ones the youngsters are sharing now. But here's the depth of my dork: on my computer I have a folder in my pictures library. Within that folder are subfolders of different moods/reactions/feelings/thoughts. Within each of THOSE folders are a collection of GIFs that apply. For example, the first folder is entitled "100% done." Within that folder are these GIFs: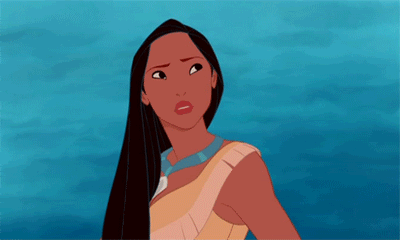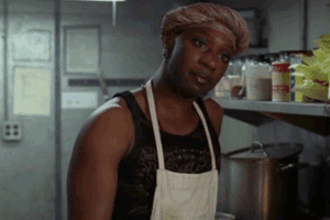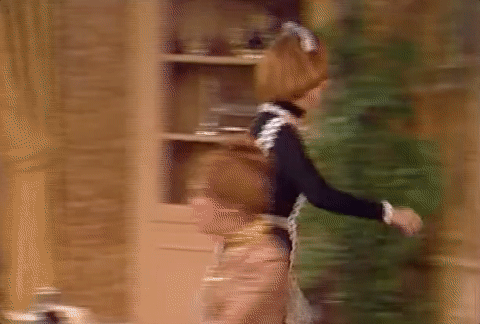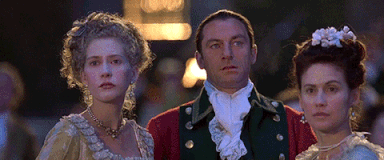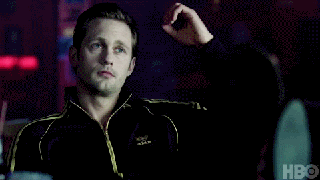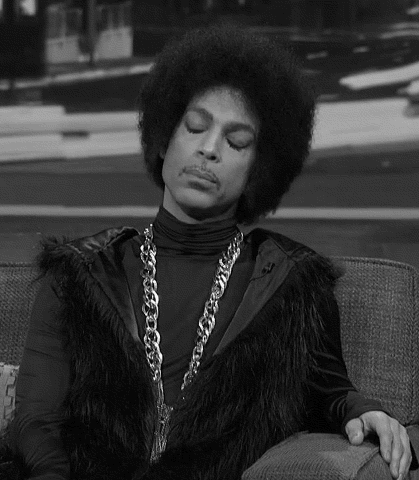 For more clarification, I have SEVENTY-ONE categories for my GIFs and at least one in each category. Usually way more than one. For example "Anger/Hate/Rage" has 37. I am complicated and crazy.
H is for "Hannibal"
My new favorite show. I was a huge fan of Silence of the Lambs – I've probably seen it 20 times or so. I read the books, too. When I first saw that they were doing a TV adaptation, I knew I would be watching it. But I had NO. IDEA. This show is unlike anything I've seen on network before. The acting is amazing. (Mads Mikkelsen OMG) The cinematography, set design, set dressing, FOOD DESIGN – all of it. There isn't a moment of it that isn't absolutely connected & amazing. I have to watch every episode several times just to catch things. Plus I read online commentary & stuff because I don't want to overlook something. Yes, it's gory. Yes, all the food is people. But it's OUTSTANDING.
I & J is for Isaacs, Jason
Yeah, big surprise there. Not only can I use up 2 letters with one obsession, I get to add a lovely picture of him. I jokingly call him "my pretend celebrity boyfriend" as he is my #1 celebrity crush. Has been since I "met" him in The Patriot. Everyone else in the world hated Col. Tavington, but he made me all wibbly. Of course, I have a bit of a thing for the villainous British brute in cinema, so my fancy for Jason is not too surprising. He holds the #1 spot on my list and I can't imagine that ever changing.
L is for lime green
This is one of my favorite colors. I love the brightness, the cheeriness, the slap-you-in-the-faceness of lime green. It can be neon or soothing, depending on how it's used. I just love it so much.
L is for Lush
I discovered Lush a couple years ago – another one of those things that you'd never know about if it wasn't for the internet! It's a Canadian based soap company that has some of the most amazing soaps, hair products, lotions. The smells are everything from energetic to amazingly soothing and they make you feel so good. Most people love their bath bombs, but since I'm not a bath person, I don't use those. But I love Angels on Bare Skin cleanser, Honey, I Washed the Kids soap, Trichomania solid shampoo, American Cream conditioner, & the absolute best shampoo for curly hair, Curly Wurly.
M is for Mads Mikkelsen
I am new to this party train. I admit – I didn't know who he was until NBC's Hannibal arrived. And, at first, I thought he was super weird-looking. I won't get too fangirly, but there's something about him that makes me all floopy inside. Yes, Jason Isaacs is still #1, but Mads is a close #2.
M is for Mentha lip balm by C.O. Bigelow
This stuff is so good! I like the tinted one best – it provides a little lip color plus the mintyness freshens your breath a bit, so you feel attractive AND fresh! I've also loved the orange mint one a lot.
M is for Method cleaning products
Let me admit something here. I'm a sucker for packaging. All those merchandisers out there have a job because of people like me. That's what originally drew me to the Method products – I loved their clean package design. Then I discovered their products are good for the environment, so that was another mark in the plus column. After trying them, I discovered they work really, really well and leave behind a gorgeous smell. I adore them – especially the wood products. The almond smell is amazing!
N is for napping
I think this is probably my favorite thing on this list. There simply is nothing that can compare to the deliciousness of sliding back into bed in the middle of the day and just napping for a while. It's even more delicious when there's a baby snuggled in next to me. 'Nuff said.
O is for opals
I can't remember a time when I haven't loved opals. I think they're miraculous the way they fire up when you turn them. They're never the same when you look at them and that, to me, is amazing. My favorite opal I have is an opal ring that Steve gave me before we got engaged. It's a gorgeous opal, filled with fire and it was a special, precious gift.
O is for Office Products
Love, love, LOOOOOVE them!! Most of them, I have no use for, but I still totally love them. I love going in Office Max or Staples and just walking up & down the aisles looking at all the cool things – especially the organizing products – and wanting to load up my cart with them. Paper clips, binders, post-its, pens, markers, all of it.
P is for Podcasts
Confession: For someone who's a singer, I don't listen to music very much. However, I ADORE podcasts. Audible books? Meh. But podcasts have me. Right now, I listen to Cabinet of Curiosities, Again With This: 90210, And That's Why We Drink, Cults, Dan Carlin's Hardcore History, Haunted Places, Lore, My Brother, My Brother & Me, Oh No Ross & Carrie, Our Fake History, Put Your Hands Together, Reply All, Ridiculous History, Serial Killers, Spontaneanation, Stephen Fry's Great Leap Years, Stuff You Missed in History Class, The Blotter Presents, The Memory Palace, The No Sleep Podcast, The Sensibly Speaking Podcast, The Smartest Man in the World, The Way I Heard it w/Mike Rowe, and True Crime Garage. Unf. That's a lot.
P is for Pottery Barn
My favorite home design store! Of course, it's all too expensive for me to buy, really, but I'd love to decorate my home with their furniture, decor and rugs. I adore the PB Kids stuff & PB Teen, too. Big, useful furniture pieces that are simply made for organization. Their color palettes are comforting while still being rich & filling.
S is for Sally Hansen Hand Repair
Hand's down (bwahahahaaha!!), the best hand cream I've ever, ever used. Thick and creamy with a scent that is really pleasing without overwhelming anything, this cream makes my chronically dry hands feel great and nourishes nails & cuticles, too. Every time I use it in public, someone asks me about the great smell.
S is for Sephora
I love makeup. I can't apply it well, but I love it. I love GOOD makeup artists, especially. Like my daughter's friend, Sam, who is UNFREAKINGBELIEVEABLE. If he isn't an Instagram star yet, he will be. Mark my words. Anyway. I could drop thousands in Sephora, easy. I use Murad Age Reform Invisiblur, Make Up Forever Liquid Lift Foundation, Urban Decay Naked Skin Weightless Complete Coverage Concealer, Kat von D Shade & Light Eye Palette, Benefit "They're Real" Mascara, Too Faced Primed & Poreless Pressed Powder. I do have a couple Kat von D Everlasting Liquid Lipsticks that I like, too.  But, I mean, seriously. I'll try anything and I love new products in an attempt to look presentable.
T is for True Crime
Ah, true crime. The ability to look inside someone else's horrifying mess of a life and try to figure out how, why, and WTF. I do love a good true crime documentary (The Staircase, The Keepers, Mommy Dead & Dearest to name a few), but also serial killer documentaries, cult documentaries. I listen to several true crime podcasts (see "P is for Podcasts" above) and they all fascinate me.
U is for Ugly Dolls
Do you love these or what?? I can't remember which one I saw first, but I remember buying my first one for Maggie back in, like, 2000 or something. The first one we got was Babo, followed by Jeero, Tray, IceBat & Moxie. I even got a Babo keychain that I love. Maggie even has a Babo journal. After looking through the site again, I still want Wedgehead, Suntan Target & Fea Bea.
Y is for yellow
It's happy, it's bright, it's fun, it's optimistic. From buttery yellow to the color of the sun, I love yellow. Sunflowers and yellow gerbera daisies are my favorite flowers. I think every kitchen should be some shade of yellow, and that's a fact.
Z is for Zombies
I love zombie fiction, I love zombie movies, I love zombie TV. I can still remember the first time I saw Dawn of the Dead," which I saw before "Return of the Living Dead," and it stuck with me because it was both terrifying and funny. Ever since then, I watch them all. Walking Dead, Fear the Walking Dead, Z Nation, World War Z, 28 Days Later, I, Legend, 28 Weeks Later, I could go on if I took the time to Google more titles. But I'm a Romero zombie fan. Zombies do NOT run. Zombies can not deduce. Zombies are stupid, slow, and will pursue you forever. They will form a pack or horde and overwhelm you with pure numbers. They won't figure out how to turn a doorknob or open a gate or use tools. That's just stupid.

Tweet